2. Home¶
To use the PMHC MDS navigate to https://pmhc-mds.net.
The first page you will see is the Home page. The home page shows you the most recent announcements made via the PMHC mailing list.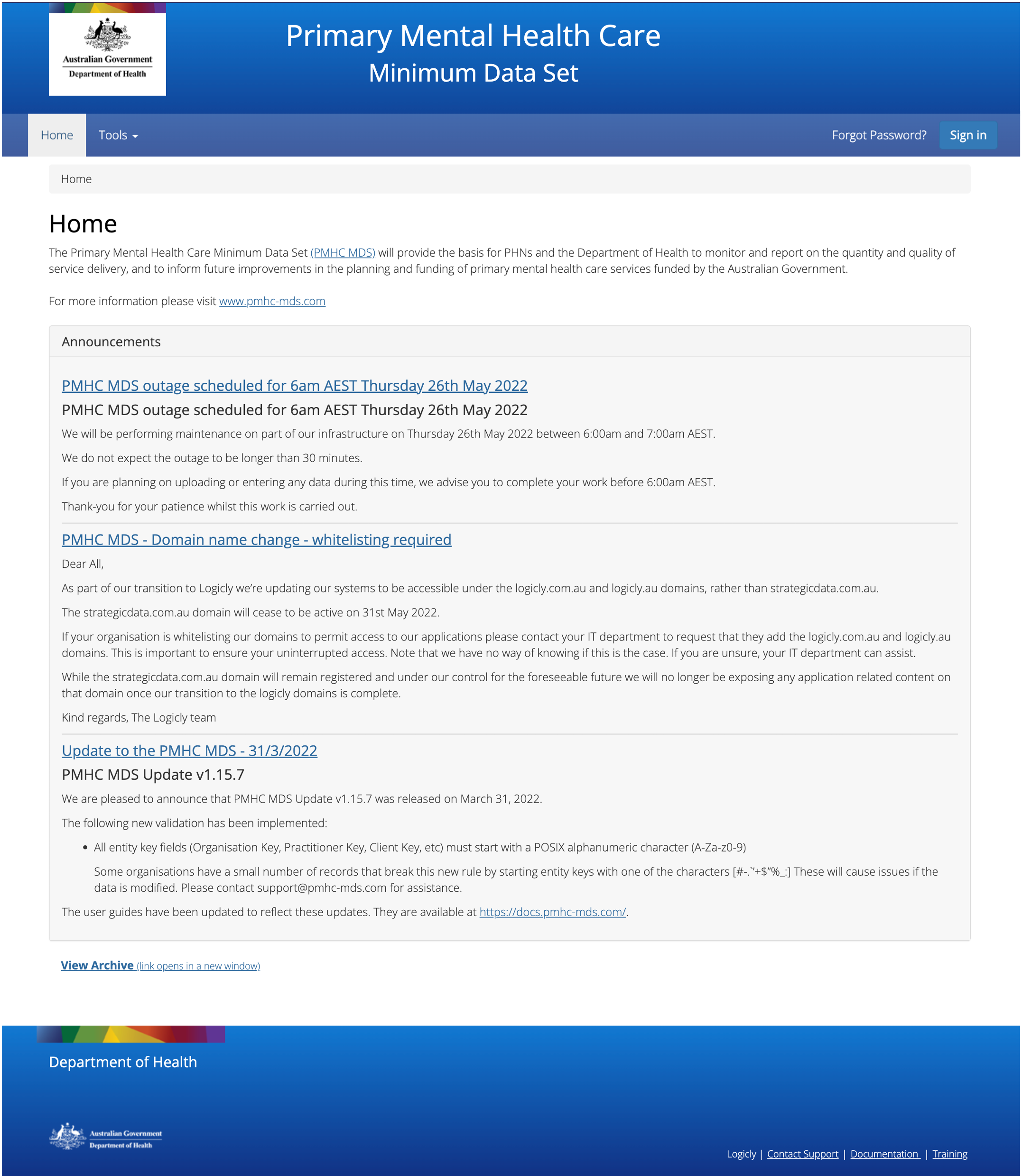 An announcements archive link is now available on the Home tab under the three most recent announcements - Click View Archive to view all the PMHC MDS announcements.
2.1. Accepting an invitation to become a PMHC MDS User¶
To become a PMHC MDS user you will be sent an invitation by email and a verification code via SMS. In order to gain access to the PMHC MDS you will need to accept this invitation within 7 days, by following these steps: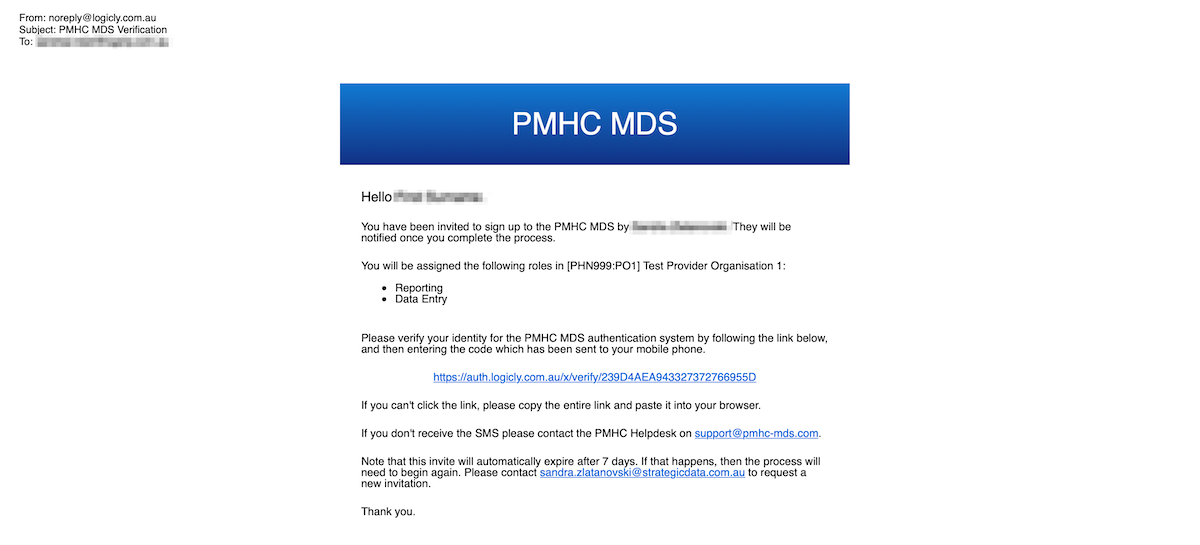 Click on the link contained in the email. You will be shown a page where you will need to input the SMS you have been sent

Input your verification code

Click Submit

You will be prompted to enter a new password
Please note: This is a single use token - please don't navigate away from this page until you have successfully set your password.

Enter your password

Confirm your password

Click Submit

Your account will be activated

Navigate to https://pmhc-mds.net/ and follow the Logging In instructions
2.2. Logging In¶
After navigating to https://pmhc-mds.net/, click Sign in.
This will open a window to log in. Enter your email address or username and then your password and click Sign in.
If it is your first time logging in, you will be asked to set a backup email address.

The backup email address is used when resetting your password. If you forget your password an email is sent to both your primary email address and your backup email address. This allows you to regain access to your account in the event that you no longer have access to your primary email address.
Click Set a backup email now

This will open the Manage details page

Under Manage Security Credentials there is an 'Email address' field

Enter your backup email, in the email address field, under Manage Security Credentials

Click Submit

You now need to confirm your email address. You will be sent an email to the address you specified and an SMS to the mobile phone number on record. Please follow the link in the email and enter the code that was sent to your mobile

Click Submit

Your backup email is now confirmed

Navigate back to https://pmhc-mds.net/ and sign in

The interface you will be able to access after login will depend upon the Users Roles you have been assigned
2.3. Logging Out¶
Logout by:
Clicking on the button to the right of the menubar that says Logged in as [Name]
Click Logout from the options that open
We strongly encourage users to logout when they have completed their tasks.
Please note - the PMHC MDS will automatically log users out after 15 minutes of inactivity. You will see a pop up box that provides a countdown feature prior to automatically logging out the idle user.

2.4. Updating your details¶
To edit your details:
Click the button to the right of the menubar that says Logged in as [Name]
From the menu that opens, click Profile
You will be taken to the Profile Management page
Login using your PMHC MDS email / username and password

You will see the Manage Details page

To update your name, click the Change personal details link

To update your primary email address, click the Change email address link

To update your backup email address, click the Change backup email address link

To update your mobile phone number, click the Change mobile phone number

link

The last section on the page, Password lifetime, tells you when you last changed your password and when it will expire. Passwords must be changed every three months